Wednesday, February 29, 2012 at 11:09AM
Of course I've heard of meal planning, but being an adventurous, curious home-cook, I've never felt the need to plan any of my meals. Most nights, I open the fridge around 5:30 and pick out the first vegetable that catches my fancy, and go from there. I have created great feats of culinary wonder...and I have failed miserably. There have been nights when Steve has hugged me and said lovely phrases like, "I'm so glad I'm marrying a woman who can cook!" or "How did you do that?!" or "You're beautiful, smart, and a fabulous cook!" (Okay, that last one may be from my own daydreaming...) But there have also been nights when Steve has been oddly silent beside me, picking away at dinner and wondering if there's dessert.
However, with the dark winter continuing on as it is (Hello windy, dark, and hail-ridden day outside my window), I've been battling with my own little darkness inside. Lethargy. I've been having a hard time getting a meal together at 5:30pm, when it's dark like it should be 9pm, and I'd rather order Chinese food than exercise my creative culinary mind. Steve's noticed, and he asked me to find a way to motivate myself.
Enter: meal planning!
Actually, I've found this exercise incredible liberating. On Monday I flipped through some cookbooks, made a few lists, and went out to the grocery store. At first it didn't seem any different that usual. I bought food, brought it home, stocked the fridge and cupboards, and then wondered what to make for dinner. Except there is a difference! I had all the ingredients I needed for three excellent dinners ready in the fridge.
I went to Steve and said, "Darling, tonight you get to order your dinner like you would in a restaurant. Tell me what you'd like. Here are your choices:..." You should have seen his face light up.
I went with a theme for my meal planning this week: Chef Michael Smith. Steve and I sort of adore him.
We first started watching Chef Michael Smith on the Food Network, and bought a few of his cookbooks because we liked his food philosophy. We especially enjoyed his Chef at Home show, because he focused on creating delicious at-home meals with very little pretentious-ness. He encouraged his viewers to experiment with the ingredients they had, and to wander from the recipe if some idea took hold. He also taught basic skills that most cooking shows glaze over, like: how to make a basic vinaigrette, how to properly cook pasta, how to cut an onion, etc. We learned so much from watching his show, and made many an excellent meal.
Then, in 2010, my father took a position working as a dining room manager in the Athlete's Village of the 2010 Vancouver Olympics. My father spent his days making sure that all the athletes' dietary requirements were met, and working with the kitchen to ensure this occurred. The kitchen's head chef? Michael Smith. Steve and I were naturally excited by this, and we grilled my father with questions about the talented chef. My father described him much as he is on TV: intelligent, gracious, focused, a hard-worker, big laugh, and kind to everyone, whether it be an athlete, a media person, the CEO of the Olympic committee, or a dishwasher.
My father asked Michael to sign our cookbooks, and I even sent him a copy of my book, Island Kids, for his own children to enjoy. It was a great little bit of connection to the chef, and hearing stories about him from my dad made me respect him even more.
I'm pleased to be cooking all Michael Smith recipes for dinner this week.
The menu for this week:
For breakfast I chose a "feature smoothie" that I'll do each morning this week: loganberries, a peach, two nectarines, a splash of orange juice, and some yogurt.
For lunch, I gathered together a selection of veggies and cold cuts (sources from our local deli). It's sandwich week! I've been putting together some yummy selections of turkey, zucchini, and kohlrabi clubs. We don't eat a lot of bread here (and I don't eat any), so Steve is feeling spoiled with a sandwich every day.
For dinner, I drew on my favorite of Chef Michael Smith's books, Chef at Home. Here's the plan:
Monday: last minute dinner at the MedGrill with our business partners to discuss a new project
Tuesday: Maritime Clam Chowder
Wednesday: Chicken and Mushroom Stew
Thursday: this is always Mexican night at a friend's house
Friday: Roasted Tomato Penne
My mother would be proud: no red meat, and even a vegetarian meal! (My parents are vegan).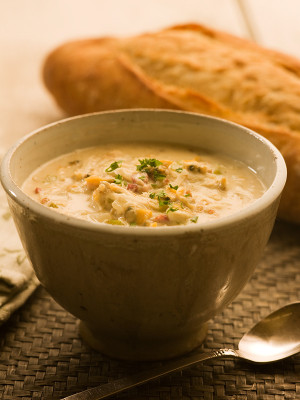 Last night was the Maritime Clam Chowder and if you like seafood, you MUST make this soup! I've made several clam chowders in my cooking-life, but none compare to this version. Chef Michael suggests using grated baking potatoes and unsweetened condensed milk to create a thick, hearty broth without use of a roux. This method worked wonderfully! The thick white broth was loaded with bacon and clams, and I added cut potatoes and carrots for good measure. I seasoned it with fresh rosemary and cilantro. A must try!
Steve hugged me.
I'm sort of excited to plan next week's meals, and I like this idea of having a theme. Maybe next week I'll do all Chinese dishes, or I could break out my sushi-making skills and we could rock Japan. Then again, maybe I'll just keep on this Michael Smith track. It's going great so far!
Eat well and be kind to others.
tagged
cookbooks,
food,
gluten-free
in
Gluten-Free Cooking